Visit Stone Brook Hill Farm for amazing New Hampshire Apple Picking!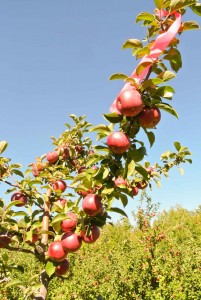 We have over 1600 Apple trees in our 12 plus acre New Hampshire apple orchard. Choose from several different varieties of apples including; MacIntosh, Cortland, Macoun, Ginger Gold, and Red Delicious. Enjoy an old-fashioned hay wagon ride into the orchard to pick your apples then come back to the farm stand to choose from our gorgeous selection of mums and pumpkins for your fall decorating. You haven't lived until you've tried our locally made cider donuts and fresh pressed cider! School groups and field trips can be arranged by appointment.
When:
Labor Day through the end of October.
Apple Picking Hours:
10AM – 5PM Wednesday
10AM – 5PM Thursday
10AM – 5PM Friday
10AM – 5PM Saturday
10AM – 5PM Sunday